Tarantino movies
This is the page about Quentin Tarantino movies for all fans of this brilliant director. You can find here everything about him, his best rated movies and links where you can watch them for free.
Quentin Jerome Tarantino
Quentin Jerome Tarantino was born in Knoxville, Tennessee. His father, Tony Tarantino, is an Italian-American actor and musician from New York, and his mother, Connie (McHugh), is a nurse from Tennessee. Quentin moved with his mother to Torrance, California, when he was four years old. In January of 1992, first-time writer-director Tarantino's Reservoir Dogs (1992) appeared at the Sundance Film Festival. The film garnered critical acclaim and the director became a legend immediately. Two years later, he followed up Dogs success with Pulp Fiction (1994) which premiered at the Cannes film festival, winning the coveted Palme D'Or Award. At the 1995 Academy Awards, it was nominated for the best picture, best director and best original screenplay. Tarantino and writing partner Roger Avary came away with the award only for best original screenplay. In 1995, Tarantino directed one fourth of the anthology Four Rooms (1995) with friends and fellow auteurs Alexandre Rockwell, Robert Rodriguez and Allison Anders. The film opened December 25 in the United States to very weak reviews. Tarantino's next film was From Dusk Till Dawn (1996), a vampire/crime story which he wrote and co-starred with George Clooney. The film did fairly well theatrically. Since then, Tarantino has helmed several critically and financially successful films, including Jackie Brown (1997), Kill Bill: Vol. 1 (2003), Kill Bill: Vol. 2 (2004), Inglourious Basterds (2009), Django Unchained (2012) and The Hateful Eight (2015).
Filmography:
Tarantino: A Retrospective. A book by Tom Shone
When Reservoir Dogs debuted at the Sundance Film Festival twenty-five years ago, Quentin Tarantino was hailed as the most exciting director to hit the Hollywood scene. Much like the film—which simultaneously ignited controversy and garnered critical praise—Tarantino is an A-lister who continuously pushes the boundaries of artistic expression. Now, Insight Editions invites fans to explore the genius of this distinctive filmmaker in the new book, Tarantino: A Retrospective. This vibrant compilation pays homage to the award-winning director with an immersive journey through his oeuvre, from the first short, My Best Friend's Birthday (1987), to his most recent feature, The Hateful Eight (2015). Interviews with Tarantino himself, as well as cast and crew provide insight into director's creative process, including anecdotes about how he wrote the first draft of Pulp Fiction in Amsterdam while holed up in a studio apartment with a suitcase full of crime novels, to the fact that Warren Beatty was the actor first cast as Bill in Kill Bill Vol. 1. until Tarantino decided to cast David Carradine instead.
Quentin Tarantino Prepping New Movie Tackling Manson Murders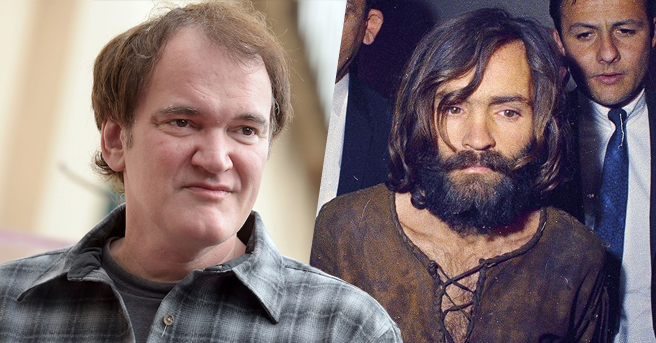 "Quentin Tarantino is quietly starting to put together his latest project, and is talking to A-list actors for what is promising to be a unique take on the Manson Family murders. The project, whose title is unknown, was written by Tarantino, who would also direct. Harvey and Bob Weinstein, who have produced and executive produced the previous Tarantino films, are involved, sources tell The Hollywood Reporter. Sources say that Tarantino is putting the finishing touches on the script and that Brad Pitt, who worked with the filmmaker on Inglourious Basterds, and Jennifer Lawrence have been approached. Studios could receive the package after Labor Day, according to one source. The plan is to shoot in 2018, possibly in the summer. Script details are fuzzy but one of the stories centers on Sharon Tate, the actress and wife of director Roman Polanski who was murdered by Charles Manson and his followers in 1969."
Cinematic Universe of Quentin Tarantino
FUN FACT: Despite Possessing An I.Q. Of 160, Tarantino Barely Passed High School
In the same previously cited interview, (conducted on The Charlie Rose Show in 1994), Tarantino claims that he was simply bored by school, and so dropped out to devote his life to movies. Of all the criticisms levelled at Tarantino over the years, (and there€™s been a few), nobody can deny that the man is smart. Like many of the writers on this site, Tarantino would be classified as an autodidact €" an autodidact is somebody who possesses a prodigious and expansive self-taught knowledge about certain subjects and/or phenomena. Tarantino had a passing interest in History and English in school, only because History was closely linked to the historical epics that he liked to watch in the theatre, and English naturally sharpened his skills in scriptwriting. Although he has flirted with the idea of being a novelist in the past, Tarantino€™s first love has always been movies. He swapped the classroom for the cinema and never looked back.
Quentin Tarantino and Uma Thurman
Uma Thurman has addressed the rumours that she's romantically linked to director Quentin Tarantino after they were pictured sharing a passionate kiss together earlier this year. Rumours started in May after the 44-year-old actress and Tarantino were reported to have taken their relationship to the next level after travelling to Cannes together to attend the closing ceremony. Uma has been quizzed about whether or not she is dating Quentin - who has directed her in three movies including Pulp Fiction - in the new issue of Vs. magazine but is remaining tight-lipped on the true nature of their relationship. Speaking in the publication, she said: "I was discussing [the rumours] with Mr. Tarantino last night. He was angry at me for not calling him back because, as he said, 'According to the papers we are practically married!' And he laughed hysterically. So our relationship is pretty much what it's always been; people are just having fun with it." Uma - who called off her engagement to Arpad Busson in April 2014, the French financier she has her two-year-old daughter Luna with - also spoke about her break from acting and other work commitments. The actress enjoyed having some time off to care for Rosalind but is now eager to get back to work and has been cast in comedy Adam Jones in which she will star with Bradley Cooper, Sienna Miller, Jamie Dornan and Emma Thompson. She said: "I've kind of been on a hiatus for a while, and I just started getting back to work right now. I had a baby and I also wanted to take a step back, and so I did. I think it's important to have this time to take a step back, analyse things and just breathe.
Quentin Tarantino Is Planning To Quit Making Movies Way Sooner Than We Thought
Quentin Tarantino has been giving American audiences a jolt with his collision of homage, over-the-top violence, and mesmerizing monologues since he burst on to the scene in 1992 with Reservoir Dogs. But enjoy it while you can. The writer-director behind such exhilarating cinema as Pulp Fiction, Kill Bill and Inglorious Basterds is already talking retirement.
The American Film Market is spewing out all kinds of news, announcing J.D. Salinger biopics and revealing a movie poster for a John Cusack/Jackie Chan movie that has us flabbergasted. Then there's Quentin Tarantino's retirement. According to Deadline, Tarantino's soon-to-shoot The Hateful Eight will be one of his last three films. In promoting Hateful Eight to foreign distributors, Tarantino trotted out castmembers like Walton Goggins, Samuel L. Jackson, Kurt Russell and Jennifer Jason Leigh. It was the last of these who tipped the retirement talk, saying she was grateful to get a chance to work with the Western's helmer before he hung up his spurs. Tarantino said of the decision to retire: "I don't believe you should stay onstage until people are begging you to get off. I like the idea of leaving them wanting a bit more. I do think directing is a young man's game, and I like the idea of an umbilical cord connection from my first to my last movie. I'm not trying to ridicule anyone who thinks differently, but I want to go out while I'm still hard. … I like that I will leave a 10-film filmography, and so I've got two more to go after this. It's not etched in stone, but that is the plan. If I get to the 10th, do a good job and don't screw it up, well that sounds like a good way to end the old career. If, later on, I come across a good movie, I won't not do it just because I said I wouldn't. But 10 and done, leaving them wanting more — that sounds right."